Sunshine Diamond River – a smart move for a thousand miles in resort field developmentSunshine Diamond River – a smart move for a thousand miles in resort field development
Smart home or smart city is no longer an unfamiliar concept for Vietnamese people, especially while digital technology is booming globally. However, the definition of "resort 4.0" is quite new and causes the curiosity and anticipation for the Saigon real estate market when a new luxury project is about to come out in this high-class style..
Taking the center of relaxing together with technology 4.0 and artificial intelligence (in managing and operating urban living standards), the "blockbuster" project of Sunshine Diamond River is officially "positioned" the concept of Resort 4.0 City of Sunshine Group firstly appearing in Vietnam.
Smart living – the inevitable trend of a digital technology era
Urbanization is an indispensable process in the world that contributes to the socio-economic development and improves of human life. On the other hand, this process causes many social problems such as environmental pollution, traffic congestion, waste treatment, health care, poverty, infrastructure, etc. To overcome these difficulties, smart city was born with the goal of utilizing technology to solve these social problems.
For smart city, planners and architects have several definitions but cannot reach final agreement. he reason is that what is considered smart for this city may not be smart for other cities. The most commonly used viewpoint today is that smart city is a city where digital elements (virtual elements) and technology 4.0 are applied everywhere, every field, giving residents a lot of benefits such as cutting spending, increasing safety, reducing health-related risks, contributing to environmental protection, etc.
Besides smart city, another kind of indispensable form also appeared along with the development of socio-economic life that is a model of resort city. According to experts in the field of urban construction and management, it is basically a small city with all the comforts of living – eating – playing, mingling with nature and having plenty of leisure spaces, attracting tourists by its own facilities.
In Vietnam, many real estate developers have been building smart cities. For example, Vinhomes Smart City of Vingroup, and coming Ecopark Smart City in Hung Yen, BRG Smart City in Hanoi, Dragon Smart City in Da Nang and Thu Thiem Eco Smart City in Ho Chi Minh City, etc.
However, it is worth noting that Sunshine Group's pioneering movement in bringing a whole new concept: "smart resort city" with 4.0 resort style in Sunshine Diamond River – Sunshine Group's new project in the journey to the South, following the impressive project of Sunshine City Saigon.
Sunshine Diamond River – the pioneer in Resort 4.0 City style
Sunshine Diamond River is located in the centre of the development triangle of District 1, District 2 and District 7 with 3 riversides and directly connected to Thu Thiem area, close to Sai Gon Peninsula Urban Area.
With the strong financial background of Sunshine Group, the the pioneer project in Resort 4.0 City style – Sunshine Diamond River is strongly invested, promising breakthroughs in designing and creating new lifestyles with advanced and modern technology.
In each tower of Sunshine Diamond River, Sunshine Group arranges fresh, pure green spaces through a system of hanging gardens, walkways combined with a diversified water surface system from swimming pools and artful waterfalls. In particular, the spectacular highlight of this entire inner landscape is the ecological inner river system that brings ventilated space to the entire urban area with a rich flora system according to the standards of a 5-star resorts.
In addition, the rosette design of each tower also brings the sophistication, absolute ventilation, and maximum wind and light to apartments in every living space while ensuring nice view everywhere.
Besides high-class planning, infrastructure, landscape, utilities of resort 4.0 at Saigon Riverside – Sunshine Diamond River is in the All-in-one model, with luxurious and isolated living space fully equipped with utilities for living, entertainment, relaxation, trading, education, etc. right in the inner area, meeting the needs of all generations in the family such as schools for children, beauty centers for women, walking area, Tai Chi for grandparents, etc.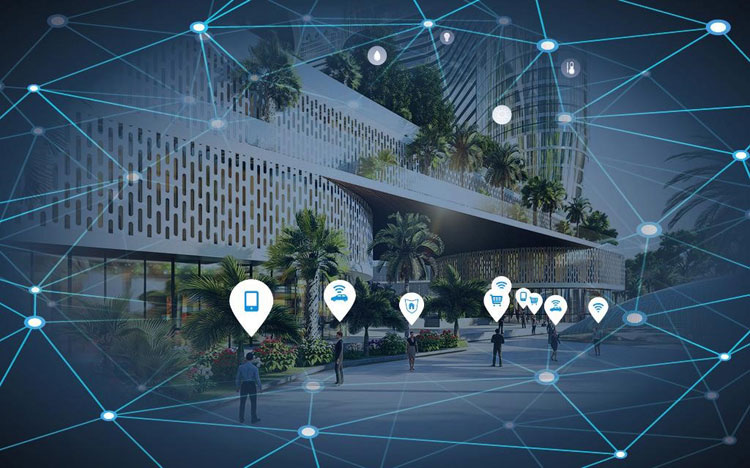 Technology strength continues to be promoted by Sunshine Group to cover all space with synchronization from Sunshine Home smart home applications, Face ID face recognition technology to ensure safety, absolute security, free wifi system for the whole urban area, ventilation system, fresh air pump and environmentally friendly moving solution with internal bike rental system, mobile charging stations in the basement dedicated to electric cars, electric motorbikes, etc.
In the context that Resort 4.0 City is being considered by many people as a second home ownership plan due to the weekend vacation habit or an effectively leasing business, Sunshine Diamond River's launching is an attractive option for upper class who are in need as well as sophisticated investors.