Resort 4.0 along Saigon River – the upcoming "super" product of Sunshine Group
The moment you coming back home at Sunshine Diamond River is the momemt you can "touch" and "feel" most clearly that you are setting foot on the place where two most valuable lifestyles converge: " Resort Lifestyle" and "Smart Living 4.0".
The crosspoint of two valuable lifestyles
A story of a perfect resort space fullfilled with a pure ecological nature, high-end utility system which carries the spirit of high-class resorts and 4.0 technology breeze.
In the island nation – Singapore, Marina One is known as the standard project representing for new real estate development trend with a philosophy of balancing among architectural value, harmonious ecological green space and trend. Located in the vibrant commercial and financial area of Marina Bay, the highlight of Marina One is the core "Green Heart" landscape – a place where diverse greenery and high-end utility systems such as luxury restaurants, high-quality office, walkway, swimming pool or food court and unique event are located…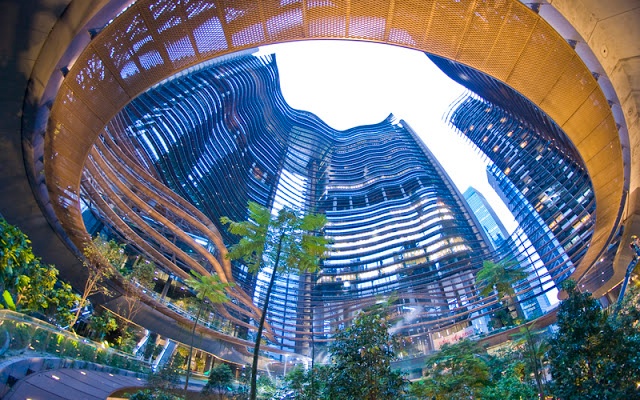 Marina One – the "Green heart" of Singapore, a model for new real estate development trend in Asia
And obviously, if you've ever admired the marvelous Marina One – the new icon of Asia's ecologically and technologically standard lifestyle, you probably already know about the number: $2 million – the medium amount that you ought to pay to own an approximate 100m2 2-bedroom apartment in this paradise.
However, that paradise dream is completely in your hand, since now an eco-urban complex converges both high valuable lifestyles: " Resort Eco-Lifestyle " and "Smart living 4.0", which will be present in Vietnam through Sunshine Diamond River project developed by Sunshine Homes – the real estate brand of Sunshine Group.
Referring to Sunshine Homes is to mention a brand of real estate development associated with service, utility, landscape and 4.0 technology elements, because each Sunshine Homes housing project is known as a smart resort – vacation area right inside big cities. However, only Sunshine Diamond River is chosen as the official model by Sunshine Homes as a definition for "blockbuster" project adopting the newly "technological resort" concept.
Located in District 7 of Ho Chi Minh City and adjacent to Saigon River, Sunshine Diamond River is the first eco-urban complex with 4.0 resort style in Vietnam with 8 proudly-standing towers which are arranged in a private compound model. Besides, a series of 5-star resort standard utilities operated by smart 4.0 technology application present in every corners. With the planning philosophy of using resort element as the core design along with the application of technology, information and artificial intelligence in living-standard management and operation in urban areas, Sunshine Diamond River particularly pays attention to elements dedicated to the "electronic residents" system of Sunshine Group. This is the connection and full satisfaction of all needs of the community and individual, through the creative design of the landscape core and the podium levels on the scale of a monopolitian and vibrant urban area along the Saigon River (please take note that eventhough Marina One only has 4 towers, which means 2 times less than the Sunshine Diamond River, it has been considered one of the widest construction landscape in Marina Bay area).
Sunshine Diamond River – the crosspoint between two high valuable lifestyles – "Resort Eco-Lifestyle" and "Smart living 4.0"
What is special about the urban complex with "4.0 resort" standard along the Saigon River?
"With the  constant development of modern life, the upper class own money and asset in their hands. When they have become the aspiration, model and pinnacle for many people, what they are always looking for and longing for are the time and health values. "These are the initial ideas for us to create the Sunshine Diamond River" said the Sunshine Homes representative.
Indeed, health has important value for anyone. After a long working day, everyone always needs time for recharge his energy. An eco-green space with a resort-standard system right in the heart of the city is the most perfect solution as your own house is the place for "health treatment" of your family with the spirit of "Resort Lifestyle". Focusing on the idea that health regenerates values, Sunshine Diamond River's entire landscape core is designed following the 5-star resort standard with diverse greenery areas of plants and water. In addition to swimming pools and waterfall arranged for many uses, the highlight of the interior is the ecological canal system, bringing convective air to the entire urban area with rich flora.
Ecological space with the internal river and the cool green trees on both sides at Sunshine Diamond River
The energy regenerated factor for residents is considered the development planning philosophy with the application of 4.0 technology in operation with a series of resort-standard utilities such as a four-season park, a water park; walking paths, hanging gardens; standard resort pool; along with a range of trendy services such as a sports center, integrated beauty salon, health care… In addition, it also has the top performing arts displays – the dance of sound and light with the colorful and vibrant premiere lighting show…as well as the culturally rich experiences such as boating, enjoying music and dancing, shopping for local specialities using smart technology right on the inner river …
In particular, Sunshine Diamond River provides balanced space among towers with curving bridge and walkways systems, dotted with systems of lovely gardens, swimming pool, sun decks arranged in alternate area of podium and connecting floors… to reduce the load of concrete effect, which brings cool atmosphere to the whole area. Alternating with the eco-green space, there is system of restaurants, cafe, cigar bar, BBQ with various styles… and especially the shop house system with the luxurious top brands in the world, which provides unique "Shopping in the park" experience that never appeared in Saigon.
The value of time is also aimed at by Sunshine Homes developers in Sunshine Diamond River. Life is becoming more and more modern, as the digital age is coming nearby; therefore, technological advances will help every elite resident save time every day by applying 4.0 to every detail in life.
You no longer need to spend hours to find parking because we have smart parking systems that incorporate resident assistance applications; no more waiting tiredly as the elevator can choose destination via FaceID face recognition with free wifi system covering the whole urban area … Especially, our buildings are equipped with ventilation systems providing fresh air with Low-E glass systems, which reduces solar radiation, internal traffic designed with an environmentally friendly moving solution with an internal bike rental system, mobile charging stations on the basemen dedicated only for electric cars and motorbikes – the vehicles of the future. All of the gadgets that have 4.0 unique feature will be your right hand to have more time to enjoy life.
And, there are still many things about Sunshine Diamond River – with every slice of a multicolored diamond along the river is a story that Saigon wants to tell you from today in the journey to create lasting values…